New Pooh (Corner, that is)
Mommy had to tear down Pooh Corner because she took four trips in a row and no matter how much she
ignored
cleaned it, it be stankin' pretty fierce. So, everything went over the balcony and bye-bye on the big garbage truck.
Right now, we have a yucky little litterbox, which I have been happily avoiding. (I shat on the carpets right before she came home from work Thursday AND Friday, and boy was she mad!)
She's planning to get us each our own box when we move. Which might happen and might not, as the new complex we want to move into is dicking her around. And she's been loath to buy anything for the new place, as she doesn't want to jinx anything. However, she had to take exception when she saw this today: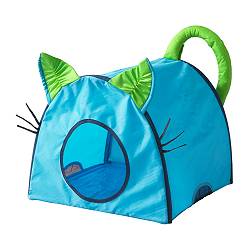 It's mine! All mine! And she even bought a matching black-and-aqua rug that will go under it and the poop box when she buys it!
I'm so happy I could just shit. Oh, wait, I just did. I mean, I'm so happy I could just shit AGAIN! Where can I go leave it? ;)
And no, I'm not allowed to use it till we're in our new place. We're already tripping over boxes as it were -- Mommy would probably throw it away in a raging fit, and I'm sorry, but I ain't hoisting my fat ass over the balcony railing to go after it!