People are dropping like flies around these parts. Half are out with the killer flu. The other half are heading for the hills.
You already know they showed my friend the door. This was expected, yet still abrupt.
(If I hadn't been offered permanent residency at this Las Vegas show, I would have already been gone.)
We also had a not terribly surprising departure on Friday, as Can-Can cha-cha'ed out.
Then we got the resignation I've been waiting for on my Company Bingo card. (Yes, I have a Trump Bingo card with his Swamp Cabinet, and I have one for my company too. And we sit on an ACTUAL swamp with creatures less dangerous than Orange Shitgibbon's cronies.)
But that wasn't all. ANOTHER dear friend got to have her own "Half Baked" moment.
Everyone else is rearranging their own bingo cards. And these betting folks have a new odds-on favorite to leave.
My money is on the overworked programmer/designer. Their money is on the overworked editor/marketer …
My neighbor (the one who was told his daughter doesn't attend a real school) came over and said, "Are you next?"
I put up my hands and said, "I plead the Fifth."
He said, "You're leaving February fifth?"
I looked at him wide-eyed. For longer than I should have.
Because, well, Feb. 5 would be a great day to resign.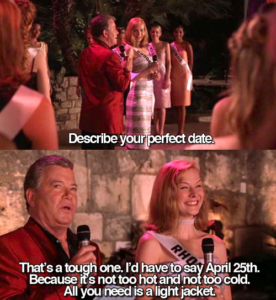 The perfect day, really …
Edited to add: I QUIT on Feb. 5.