You know I need a drink BADLY when I spend an hour driving around Adam's Morgan — like I did last night — just to take my happy ass out for some libations at Felix to help celebrate Metblogs' first birthday in the upstairs Zipper Lounge. I wasn't wild about the Cosmo, but the "e'lixir"? Mmm, mmm goooooddddddd. …
The only reason (other than temporary insanity) that I thought driving around and then just paying way too much to park in a shitty garage was all because Tiff promised CakeLove. 😉 Well, that and I totally had the perfect outfit to wear: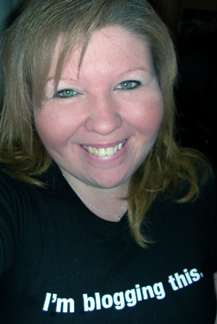 If you want beautiful boy bloggers to look at your boobs, girls, this is the shirt to wear! 😉 I might just have to wear this more often. 😉
For photos of the event (instead of my tired, cranky self), visit Tom's photostream here. And other resident bloggers, hope to see ya at the next one!
On iTunes: Iio, "Rapture"
2 Responses to In which spending an hour trying to park is completely reasonable
Erica :
July 22nd, 2005 at 2:07 AM

Woo! Nice boo… er, shirt!

Dawn :
July 22nd, 2005 at 11:11 AM

😉