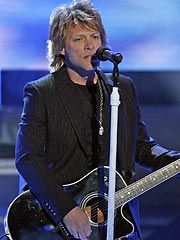 All right, just got caught up on "American Idol" from last night. Now I can blog.
Underwear change was mandatory first, however. 😉
OK, Phil and Chris need to go. They sang "Blaze of Glory" and "Wanted Dead or Alive," respectively. And the dudes paid brilliant homage to their songs. Phil clearly knew every note by heart, and Chris faked it enough to make it.
Now, I know every word, note, breath, guitar riff and keyboard chord by heart that Bon Jovi has ever played as well, but it doesn't mean I can carry it off. I think they were both high-grade karaoke renditions. Entertaining, absolutely, but star quality? Meh.
Blake shook things up with a beatbox version of "You Give Love a Bad Name." I was prepared to hate it. You don't fuck with Bon Jovi in my world. But given that they will never be able to do the original as, well, the original was done (see above), Blake didn't even try. Which made it magical and memorable. I'm not a huge fan of his, but that he didn't ruin the song AND that he took something I've heard 20 billion times and made it new again, I gotta give him his props. Dawg. Word.
The girls stole the spotlight. I disliked Jordin's "Livin' on a Prayer" from the first note. But I love her, period. You can forgive an off night for her because she had fun. She knew she stunk, but she was rocking out. To Bon Jovi. WITH Bon Jovi. I mean, really, how bad a night could a girl have?
Melinda did a GREAT job with "Have a Nice Day." It's weird, the songs of Bon Jovi's that get overplayed, when they have an AMAZING collection going back to 1984, when my wee 10-year-old self became a drooling fangirl with the first strains of "Runaway." In any event, Melinda seemed almost weirded out by her task of taking on "HAND" but her voice is too good to write her off on a technicality here. And it sounded DIFFERENT than the original. Which, let's face it, when you're an obsessed fan like me, if you can't rock it like they did in the first place, you might as well do a 180 and run with it. It worked.
My favorite was LaKeisha, who I was sure was going to be voted off last week. She picked "This Ain't a Love Song." Which, OMG *swoon.* Bon Jovi's best album, and certainly the most underrated, was "These Days." That one was filled with heartbreaking anthems like "My Guitar Lies Bleeding in My Arms," "It's Hard Letting You Go" and "Something to Believe in." And I love love LOVE "Hey God" and have quoted it in this blog quite often, as well as the title track ("Don't you know that all my heroes died/And I guess I'd rather die than fade away.") *sigh*. And to hear that man sing "Lie to Me," lord. *quiver*
Oh, yeah, LaKeisha. Anyway, she was gorgeous. I loved her shirt. I found her one silver ballgown from Diana Ross night on Igigi.com, so I'll be looking for the black-and-red shirt later. 😉 But wow, even I got chills when she did "Love Song." And I think I was everyone's toughest critic, so to say I loved her? Meant she was pretty fucking amazing.
Thank god I wasn't a contestant this year — I doubt I would have been able to stop dry-humping Jon's thighs enough to concentrate on the songs. But maybe it could have worked, as I DO have them all committed to memory.
Bon Jovi's performing live on "Idol" tonight, which starts in 10 minutes. EEEEEEEEE!!! No shortage of masturbation material tonight, kids. None whatsoever. … ;9