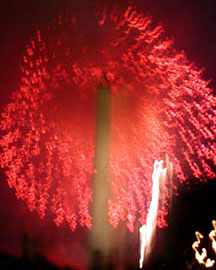 Welcome to Carnival of the Recipes #98, where we're putting on our own Fourth of July spectacular with lots of spice, a little bit of sugar and definitely everything nice! This one's coming out to you from Northwest D.C., just minutes away from the Washington Monument (pictured) and the National Mall where tourists from around the country flock to celebrate (while the locals stay far, far away from the madness!).
This week's theme is "Fireworks: Spicy, Sparkling and Splendid." We're all about grillin' and chillin' with the main courses, and as you know, 'tis the season for side dishes and light appetizers. And if you're looking for some patriotic party desserts, well my friends, you've come to the right place.
THE MEAT OF THE MATTER
Yeah, yeah, it's swimsuit season. Time to cut the carbs and up the protein intake. (Or time to hide in the air-conditioned house. Whichever!) So, it's totally and completely for your health that we give you sumptuous entree ideas for meat you can throw on the grill before moving inside to finish the very light preparations:
Riannan gives us some international flavor with a taste of Orange Beef. Ginger, orange zest, sherry — what's not to love?

Sriracha — cha cha cha! At Kicking Over My Traces, Cehwiedel is cooking up some Split Roasted Chicken, Asian-Style.

Dude. Shrimp-Stuffed Jalapenos. Pumped Chicken (it's blackened). Smokin' Thighs (the kind ranch dressing was created to smother). :9 The BBQ General presents Some Like It Hot. *fans self*
I'd like to pause for a station identification break to say that I used to work in a hot-sauce store. And I LOVED to give samples to folks who claimed they could "take the heat." Yeah, I watched many of them scream for their mommies with just a drop of Dave's Insanity on the tip of a toothpick. Be sure to have a trough of water or maybe even some milk handy if you want to experiment with upping the Scoville units in your dishes.
And on behalf of a LOT of customers, I feel compelled to share another public-service announcement: Remember that the fiery oils in hot sauce (taken from pepper seeds, which is where the heat resides. Anybody can eat a habanero pepper that's been washed.) remain embedded in your fingertips and tongue for hours. Keep that in mind before any nighttime fireworks displays. … 😉
All right, let's kick down the spice a notch but kick up the flavor with some "veggie" burgers that have just as much "burger" as they do "veggies"! PractiGal gives us a twist on the traditional hamburger in her Juicy Burgers with a Twist. You get two food groups in one handy serving. Talk about convenience food!

Viva le Atkins Diet! The Headmistress/Zookeeper at The Common Room gives us Pizza Fondue. Keep it warm in a crockpot and serve with veggies and breads. Personally, I have a big bag of Panetini (Italian toast) that's been crying for a recipe like this!

Want to go to a picnic and actually be able to wear a shirt that's not black because you end up wearing whatever delicious goodness you were ingesting? (Sorry, I would never ever imply that any of us would dribble on ourselves. What I meant to say was, in case of food fight. Yeah, that's totally it!) Anyway, you can wear that white shirt and enjoy Triticale's White Barbecue Sauce, with horseradish and Creole mustard. (He also suggests serving with red wine and Blue Hawaiis, so you can salute your country in style!)

And there's no better use for that grill than to make some sizzling-hot Fajitas (Fa-he-th-a-s), courtesy of Rhianna (A Texan Abroad). Ole!
And who could forget one last grill favorite:
Kabobs (or kebabs, however you spell it)

These are great because because they're portable and they taste good cold. Just cube steak or chicken or lamb and marinate for an hour or two in your favorite sauce. Mine used to be Wasabi Teriyaki from Trader Joe's, but they quit carrying it and I'm looking for suggestions to replace it with.

Speaking of marinating, be sure to soak your skewers for an hour in warm water so that they don't go up in smoke the minute they touch the grill. Moisture is a good thing!

Anyway, also cut up some red, green, yellow and/or orange peppers for color, and here's your magic ingredient: White Peaches. OMG, they grill up beautifully, as they stay relatively hard and look pretty with grill marks. Of course, if you're taking them to a party, be sure to baste them with lemon juice before the trip. Finish off the skewers with cherry or grape tomatoes, but another helpful tip: Add them to the skewer when the food is almost done, as they will liquify and be pretty messy otherwise.

To reheat, throw 'em in the broiler or, if you have an electric stove like me, send them home with other guests. 😉
'AND WHAT KIND OF SIDE DISHES WILL WE BE ENJOYING WITH OUR FROZEN WAFFLES TONIGHT?'
This section is in homage to "South Park's" "Eric Cartman," as he loves his side dishes, although I'm going to consider it more of an appetizer-and-sides section.
That said, I love to cook for guests, but in the summer, I don't do intricate stuff. Like, 10-20 minutes' prep time for a dish is ideal. So, my favorite recipe is Basil and Tomato Salad, for obvious reasons:
Basil and Tomato Salad

Fresh mozzarella, in block form (so you can slice it yourself)
Ripe tomatoes
Fresh basil
Salad greens (Baby spinach or a spring mix)
Balsamic vinaigrette dressing

Spread the salad mix along a nice round platter. Slice the cheese and the tomatoes into 1/8″ thick slices. I like to set them up like a pinwheel around the edge, stacking a slice of cheese on top of a tomato slice. Alternate this setup like little finger sandwiches. If you have enough left, do a similar circle in the middle area. In the center, I usually put a small, clear container of balsamic vinaigrette. And as soon as the party starts, I drizzle the dressing over the salad and throw the basil atop that, and voila!

As a variation, because I like to give y'all options, I'd get some short skewers (or break long ones in half) and buy those mozzarella balls that come marinated in olive oil. Put a ball in the center of a small skewer, then build out on each side with thinly sliced proscuitto, folded into sort of a ribbon/fanlike presentation.

Then put some sort of fruit like honeydew or cantaloupe or white peaches. Then slice a mozzarella ball in half (or use it whole — cheese is wonderful! –and put a half on each side of the skewer, and add more meat and fruit. The fruit should be at the ends to keep the proscuitto fan in place. You can drizzle vinaigrette over it or use a little bit of oil and have some fresh thyme or rosemary handy for presentation purposes, as the fragrance and flavor they lend are great.

I think it's called a brochette or something like that. Hell if I know — I usually say, "Yeah, that cool dish I made last year" and people always know what I mean. 😉
The sides/munchies are all about the fruits and veggies — things that encourage guests to circulate and also things that lend themselves to disposable plates and flatware. Hurrah for Hefty-bag cleanup!
Now, on to more tantalizing goodness:
My friend and neighbor Nic contributed her delicious Black Bean & Roasted Corn Salad. I'm sure she won't mind if I invite myself over to try some live and in person. 😉 (Just kidding — you can bring me a plate instead. LOL)

From Rhianna (A Texan Abroad), guest chatter will be kept to a minimum with such tempting spreads as the family-friendly (sans alcohol) Pina Colada Dip and Guacamole. I've tried the Pina Colada Dip — Rhianna suggests using it as a a fruit dip, and I wholeheartedly agree. Although I did dip some southwestern eggrolls into it and the sweet cut the heat very nicely.

Summer is practically synonymous with potato salad, and a lot of people are picky about it. But with KeeWee's Bacon & Egg Potato Salad, everyone should find a reason to celebrate the incredible, edible egg. And the bacon. Of course. 🙂

A recipe AND cooking tips! The Family CEO presents Deviled Eggs: Recipe & Tips. Personally, I use the same recipe and toss in a teensy bit of relish for color.
Speaking of color, my friend Dulcie heard I was doing this patriotic project this weekend and contributed her red, white and black bean salad recipe, a Turkish dish called Piyaz, which she says is great with burgers and steaks:
Piyaz

1 can small black beans
1 can small red beans
1 can white cannelli beans
Oil
Apple cider vinegar
Red onion, sliced
Chopped parsley, fresh
Salt/Pepper

Empty the cans of beans into a colander and rinse thoroughly. (She suggests going with Goya or Son of Italy bean brands.) Spread the beans into the bottom of a rectangular container.

In a separate bowl, combine equal parts oil and apple cider vinegar (1/4 c. each to start — up to 1/2 c., depending on your tastes), onion, parsley, salt and pepper. Pour over the beans and let it marinate overnight.

Before serving, top with hard-boiled egg quarters. Serve cold.

As a variation, use dill instead of parsley.
One last side dish, from me, is corn. Now, I don't mean that in an "Al Gore invented the Internet" type of way. I mean that when you make corn, don't just serve it naked or with some crappy margarine. I'm saying to douse it in real butter, then coat it with Parmesan cheese and then — here's the best part — sprinkle some Aw Shucks Roasted Corn Spice. I bought it at some country-bumpkin fair and I LOVE the southwestern kick it provides. Yum!
SUMMER SWEETNESS
Staying on subject with having your buffet table reflect your pride in Old Glory, you can revel in the sweet taste of freedom thanks to Morning Coffee & Afternoon Tea's ARR Dubyou Bee Fruit Salad. Go click on the link — you'll get the name when you see the photo. Pretty!
Magnifique! From Kevin at TechnoGypsy, we celebrate the blue, white and red with Crepes. He shares recipes for both a crabmeat filling (pour le déjeuner ou le dîner, or "for lunch or dinner") as well as a peach filling (pour le petit déjeuner, le dessert ou le lorsque, or "for breakfast, lunch or anytime"). Yup, at Caterwauling you get recipes AND ninth-grade French. Chanceux vous!
Dr. Fuhrman at DiseaseProof.com has a full menu for the perfect Summertime Picnic ready and waiting to go, with Jenna's Peach Freeze (a family-friendly fruity blended drink), bean enchiladas and Cara's Apple Cake. Decadent AND healthy!
I think it's lovely that the the most American thing on the menu comes from Amanda (Aussie Wife), who serves up a special slice of Apple Pie.
And what's warm apple pie without ice cream? At Trinity Prep School, Maureen makes an all-American Ice Cream Pie.
Patriotic and pleasing: Kevin at Seriously Good gives us something blue-tiful with BlueBerry Crisp.
Our esteemed Carnival coordinator Shawn over at Everything and Nothing celebrates the details with Freezer Blueberry Jam. And if I know Shawn, she either has featured or will feature great containers to use 'cause she just KNOWS stuff like that!
At my house, frozen adult beverages are always on the menu — even when there's no food in sight! This appeared in a previous carnival, but hey, apricot brandy is timeless:
Apricot Slush

2 cups Apricot Brandy
2 cups boiling water
4 teabags
6 cups (room temp) water
12 ounces frozen O.J.
6 ounces frozen lemonade
1 3/4 cups sugar
Ginger ale

Steep teabags in the two cups of boiling water for two minutes. Drain and discard bags. Combine hot tea with brandy, the remaining water, O.J., lemonade and sugar. Stir well; cover and freeze overnight.

Serve in cups with equal parts ginger ale. Some people choose to put the ginger ale into the punchbowl, but I prefer to keep it on the side so that the mixture stays slushy longer. I prefer diet ginger ale because the slush is sweet and sugary enough.

Variation: Amaretto Slush

Substitute 2 cups Amaretto for Apricot Brandy
Reduce amount of frozen O.J. to 6 ounces
Add 6 ounces of frozen limeade
Another thing I love is pineapple marinated in Grand Mariner. Leave it overnight and toss the fruit on the grill whenever you're ready. An amazing dessert!
IF YOU CAN MOVE OUT OF THE BED IN THE MORNING
I imagine I should have started with breakfast dishes, but as we are responsible hosts and hostesses, we don't let our guests drive home intoxicated. And let's face it, if you live in an area like I do (D.C.) where real estate is ridiculous and hotel bills are commensurately insane, you get a lot of requests from folks who want to crash with you. So, before you toss them out onto the Beltway or whatever concentric traffic circle always frightens out-of-towners, be sure to give them a hearty breakfast.
Kimberly at Anchored by Grace has got it all covered for you with A Favorite Breakfast. My guests can stay here — I'm going to go live with HER so this glorious buffet can become my favorite too — corned beef hash casserole, sausage gravy. *drool* The pasta-stuffed onions have bacon in them. And seriously, how can we not worship pork products? 😉
WHAT? THE PARTY DOESN'T LAST FOREVER AND EVER?
As a former party-planner by profession and just all-around party girl in my youth who tried to throw kickass extravaganzas on a budget, I want to share some of my lessons learned.
Warm weather doesn't keep your food warm
Have some chafing dishes and fuel on hand to keep your food warm throughout the duration of your soiree. Folks arrive when they arrive — show them that they're always welcome by having fresh, hot food waiting for them.
Even if you don't need chafing dishes for the food you prepare, someone is always going to bring something that would taste better warm. Party City sells these in kits — foil dishes with stands and fuel — for seven or 10 bucks. Glass baking dishes set on the stove burners work just as well. Just be sure to keep the food covered to retain moisture.
Use quality cookware
Me-Ander gives us a sweet, metered tribute to a baking pan that bit the dust.
Save the scrubbing for later
I know, we want our friends to think we make our beds with hospital corners every morning. Definitely do clean, and clean well, but save the backbreaking sterilizing of the house until long after the guests have gone home.
Let's face it, you're going to be cleaning up coaster rings and spills magically hidden beneath a pile of napkins anyway, so do your home makeover for yourself, not to impress anyone else. Just be sure the coffee table isn't wet, as the last thing anyone needs is a late-night trip to the emergency room after a karaoke marathon/table dance-off gone wrong. …
Bottom line, the only thing that needs to sparkle at your event is YOU. So shine on, friends, and enjoy your Fourth of July celebration!
WANT TO BE A CARNIE?
Follow the traveling Carnival of the Recipes and check out next week's edition — themed "Life's a Beach" — at Blabber Heads. Peggy's looking for fit fare, so feel free to share your recipes that are tasty and satisfying yet keep you in beach-weather shape!
To submit your recipe, e-mail recipe.carnival AT gmail.com by noon Central on Saturday, July 8. If you'd like to host a future edition of the Carnival, send an e-mail with the word "host" in the subject line to the same address.
13 Responses to Summer sizzle: Carnival of the Recipes, 'Fireworks' edition