It's been quite a creative couple of days here at Chez Dawn.
First, I gots me a French pedicure: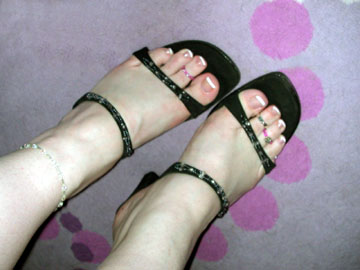 Then Tiff got bitten by the crafty bug, and we ended up going to Clay Cafe Studios in honor of her birthday to get all crafty and stuff.
I made a tabletop:
It's the big square in the center of all my other mosaic crap, BTW. It's got a mirror in the center.
Clay Cafe gave me mauve-colored grout. Gah. Mauve! I went to Michaels and bought some bluish-silver grout, which I need to apply one of these days. I have a wrought-iron table to which I am going to superglue that mofo. I can't wait. 🙂
More of me and my cobalt/black/mirrored glass fetish:
But wait, there's more.
While I was at Michaels, I started collecting crap for a holiday swag. I grabbed greenery and started shoving all kinds of glittery blue and silver flowers in it, and people actually began stopping me, telling me how pretty it was and asking where I'd got it. Hah. With the creativity that runs in my family, they'd be appalled if I actually bought and didn't make something.
Here's the swag, in regular lighting:
I threw it together in five minutes, tops.
I tried to get a pic of it all lit up with the blue lights. Twenty-seven pix later, this is the best I could do (clearly, photography is not one of my creative pursuits). Well, it could be the 2 mpx camera, but oh well. 🙂
And it wouldn't be a holiday without a bad cat eating my creation: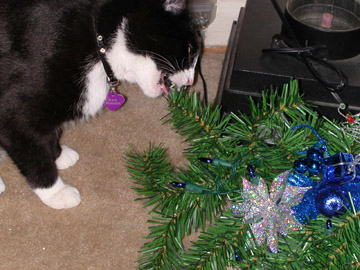 And, last but not least in the creative pursuits: